Wedding Photography Courses in Central London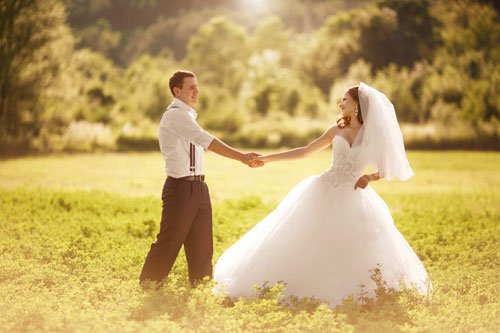 Learn the business skills and technical knowledge to become a successful wedding photographer.
What will I learn on the Wedding Photography Course?
The London wedding photography course follows this schedule:
Day One – Theory and Planning, Business Tips
Day Two – Practical Session – key moments of a wedding staged as a real wedding day with a bride and groom for you to photograph
Over the full course we'll cover the following subjects:
What makes a good wedding photographer?

Preparation – planning the day, visiting the venue, engagement shoot

Wedding photography kit discussed in depth

Lighting – making the most of natural light, when to bring portable lights

Key photographs and posing – how to direct your subjects for unforgettable images

Challenges and how to deal with them – changing weather, difficult guests, limited time etc
Essential images – how to stage and capture the photos all bride and grooms expect, including the 'first look', the ceremony kiss, confetti pictures, cutting the cake, group photos and getting ready images

Selections – how to choose the final images and how to present them to the client

Sales and marketing techniques – wedding photography is competitive, so you'll learn how to stand out from the crowd and how to price your services

Contracts – how to form a legal contract to protect yourself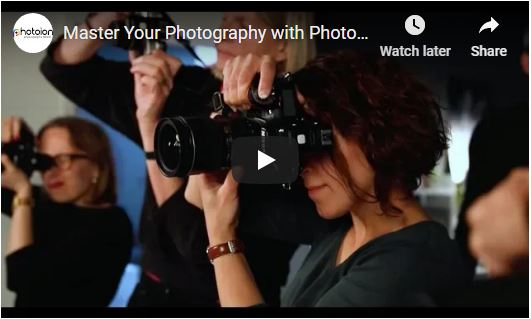 Do you dream of starting a professional wedding photography business? This specialist wedding photography course will give you the variety of skills you need in order to capture the magical moments of a wedding.
This two day course combines planning and theory with a location shoot at a real church with models acting as the bride and groom. We'll take you through everything you need to know as a wedding photographer, including planning for the unexpected and some of the more business-orientated aspects of the job.
For the Wedding Photography Course you will need a digital SLR camera or a professional compact camera with full manual exposure. You will also require a speedlite or flashgun to capture professional looking images. If you don't have the correct equipment or accessories then you are welcome to borrow these from Photoion – please just inform us before you course starts.
To take part in this course, you'll also need a good knowledge of camera settings, lenses, exposure and shutter speed. If you'd like to be a wedding photographer but don't have the basic skills, why not try one of our beginner's courses to get up to speed?
Our Students Testimonials
5 Stars on Google+ independent reviews, over 100+ Youtube recommendations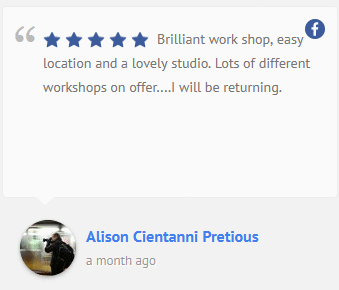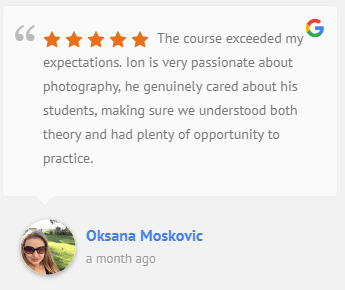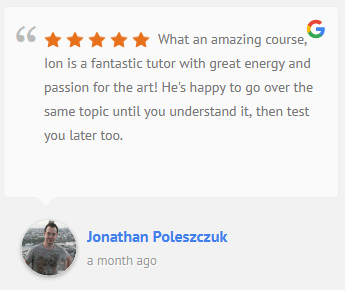 Unlimited After Course Support
After completing this course, you will be fully prepared to capture a couple's big day and produce beautiful images they will treasure forever. The wealth of first-hand knowledge and tips you'll learn will stay with you forever, and you'll learn more with every wedding you photograph.
Here at Photoion we have an exclusive after course support platform which can be accessed by all of our students. You can contact our tutors by email, phone or social media for help or advice in the future. We're always here to answer any questions you may have, and we also encourage you to send in your work for feedback so you can keep improving.