Photoshop Photography Workshops in Central London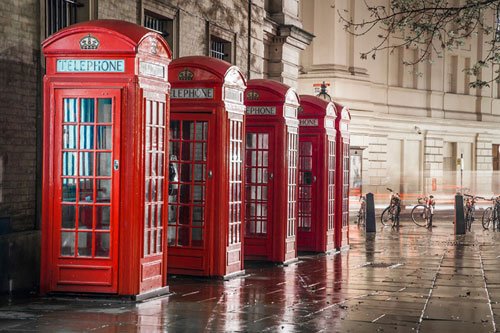 This workshop will teach you how to transfer, select, organise and catalog, edit, enhance, optimise and backup your photographs and how to make them remarkable. This workflow workshop applies to: Photoshop, Photoshop Elements, Photoshop Lightroom and any other similar software.
What will I learn on the Photoshop Photography Workshop?
The course topics include:
Image management – learn how to transfer, select, organise, catalog and back up your photographs during upload to make finding a photograph and editing processes simple and effective.

File types – learn the difference between RAW, JPEG, TIFF, PNG, etc. and when to use them

Image resolution – learn the difference between DPI, PPI, resolution count, printing resolution, etc

Image optimisation – understand how to optimise images for different purposes, online use or printing

Filing, tagging and cataloging your images locally or online.
Image compression – discuss compression in depth so you understand how to do make your images very light without compromising their sharpness.

Brushes and tools – explore the many different tools of Photoshop including healing, cropping, and contrast and luminosity

Black and white conversion – learn how to convert your images to monochrome

Watermark – we'll show you how to watermark your images with your name or brand

Editing software explained in depth: Photoshop, Photoshop Elements and Lightroom,  we will discuss the differences and which one is best for you.
What kind of results you can expect?
During this course you will learn how to achieve results like this: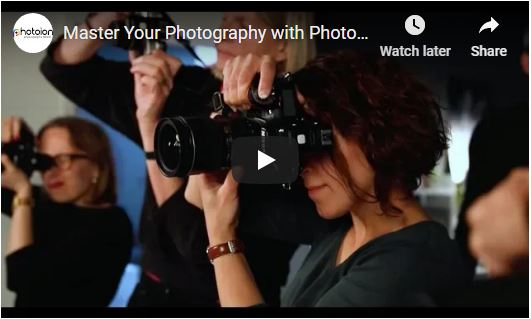 The Photoshop for Photographers workshop is ideal for photographers of all skill levels who want to improve the quality of their images. You'll be introduced to the 'image workflow' which involves finishing your images digitally after uploading them. Our tutors will also demonstrate how to use retouching and editing techniques which can really transform your work.
At Photoion we have a small group teaching policy so our students can really get the most out of the workshop. Learn from the best in a hands-on, professional and relaxing environment, and develop at your own pace.
You don't need any knowledge of Photoshop before taking part in this workshop, as it is designed for all skill levels. However it does help if you have a basic knowledge of photography techniques, and if you wish you can bring along some of your own work to edit.
Our Students Testimonials
5 Stars on Google+ independent reviews, over 100+ Youtube recommendations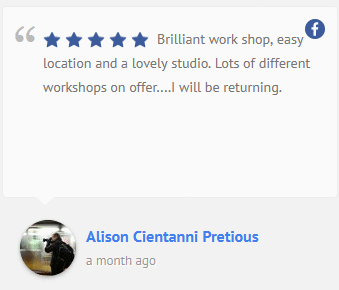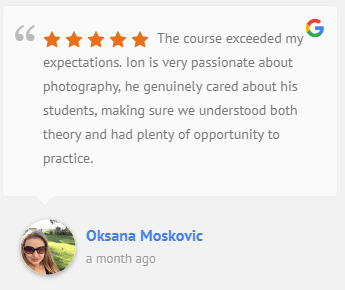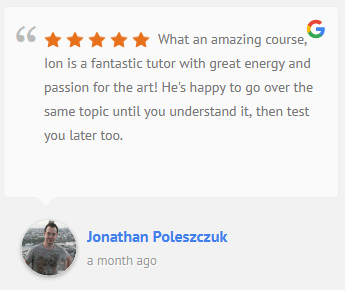 Next Available Dates
| Status | Course | Date | Time | Price | |
| --- | --- | --- | --- | --- | --- |
| Open | Photoshop for Photographers Workshop (1 day) | Mon, 28 Oct | 10:30 am to 4:00 pm | £149.00 | Book now |
| Open | Photoshop for Photographers Workshop (1 day) | Fri, 29 Nov | 10:30 am to 4:00 pm | £149.00 | Book now |
| Open | Photoshop for Photographers Workshop (1 day) | Thu, 30 Jan | 10:30 am to 4:00 pm | £149.00 | Book now |
Unlimited After Course Support
The tips and tricks you pick up in this one day workshop will stay with you forever – and so will your Photoion tutors. Following on from the course, we offer a support system which all our students can access. If you need any advice, have any questions or would like some feedback on your work, you can contact us by email or phone.