The Photoion Photography School studio is a fantastic space located in the heart of London. Located just minutes from Waterloo station, our studio is ideal for your photography needs.
Prices include the use of professional equipment such as lighting and a variety of 9ft background colours. See below for a full tech spec of what is included. We aim to make every photo session as enjoyable as possible and provide free coffee and tea.
If you need professional photography services, get in touch with us today and we can accommodate you.
Photography Studio Hire in London, Waterloo
London Waterloo. Our studio is based in Central London at 14 Lower Marsh, SE1 7RJ, which is a 5 minute walk from London Waterloo (and EAST) station.
Price: £75 per hour for the first 2 hours, £50 – additional hour. Minimum hire: 2 hours. Great discounts for our students! Make contact to discuss.
Use of Equipment Included
Use of equipment is included in the price. Please check below for the list of equipment we can provide including paper backgrounds etc.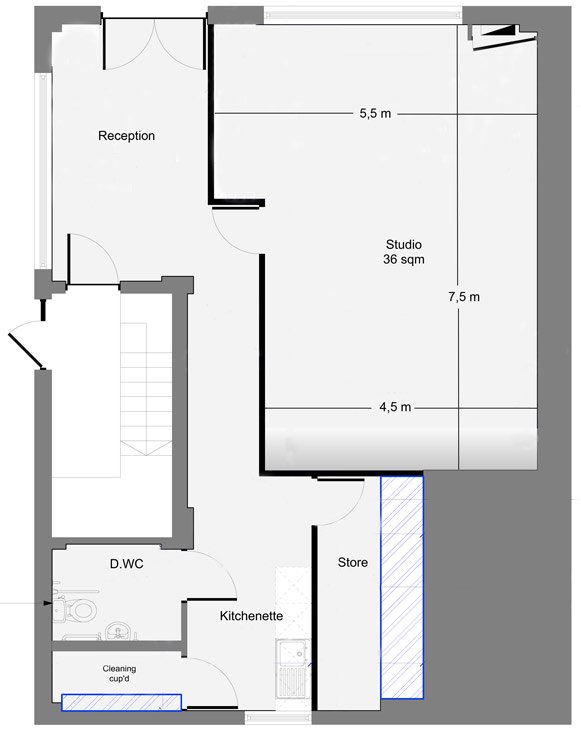 Location: 14 Lower Marsh, SE1 7RJ, Waterloo

Group Size: Up to 8 people

Price: £75 per hour for the first 2 hours, £50 additional hour

Payment: Full payment is required to secure a slot, payments are non-refundable
Blackout or soft natural light (via diffused large window) studio
Kitchenette equipped with coffee machine, fridge/freezer, kettle, cutlery, mugs etc
Reception and waiting area
Disabled access and Disabled WC
Air-conditioner
Bluetooth Sound System
Close to Waterloo and Lambeth North stations
Equipment
The following equipment is available for use and included in the price:
Studio lights heads (11): 

2 x 600 w battery-powered – portable

2 x 500 w

3 x 400 w

3 x 300 w (reflectors incorporated)

Light shapers/modifiers 

2 x large 60 cm Bowens beauty dishes soft white + diffusers

2 x 80 cm soft boxes

2 x 90 cm octagonal soft boxes

4 x strip soft boxes + grids (2 small 2 large)

1 x large parabolic umbrella

1 x Hexadecagon Softbox 36 inches/90 centimetres with Grey Rim

2 x brolly/umbrellas (one white one silver)

1 x zoom 40 degrees reflector

1 x Bowens Sunlite

5 x standard reflectors + honeycombs

1 x 1.90 m soft box calumet

5 x packs Lee gell filters sets – in large size 50 cm – all colours available

2x Polystyrene Polyboards – 2400mm x 1200mm x 50mm – black and white

Speedlites 

8 speedlites + accessories and stands
Stands & clamps 

1 x large boom arm stand on wheels + weight

8 x regular stands

3 x wheeled regular stands

3 x light stands 2m

2 x light stands 3m

1 x small 50cm stand

16 x large and small clamps

Arms 

 1 x telescopic reflector arm

1 x small boom arm detachable

Triggers 

8 x triggers / receivers (calumet)

Backgrounds + accessories

1 x wall mounted background support x 5 roles

1 x vinyl black / white 2.90 x 8 m

various paper colour backgrounds

white walls – white glossy floor

1 x glossy black acrylic cube 50cm

1 x glossy white acrylic cube 50cm

1 x vinyl chess board (black and white) vinyl flooring 3 x 3 m

1 x wifi wireless ceiling mounted super bright projector

1 x black glass wheeled table