Speedlite Photography Workshops in Central London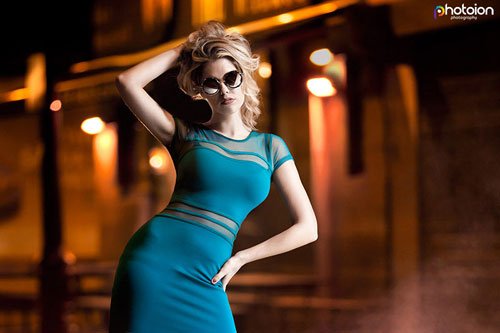 In just one day learn everything you need to know about using a speedlite flashgun off camera.
Class size: Courses limited to 8 persons.

Duration: One day – 10.30 am – 4 pm

Price: £185

Location: Central London, Waterloo area and surroundings
What will I learn on the Speedlite (Off Camera) Photography Workshop?
Course topics for the Speedlite Workshop:
An introduction to the speedlite – features will be explained in depth including power, settings, capacity, and exposure modes

Brands and models – take a look at different types of speedlites and flashguns

Technical aspects – get to grips with your camera settings in depth, including the light meter and metering modes

Speedlite accessories – learn about a variety of accessories including shapers, modifiers, triggers and stands
DIY – take a masterclass in how to build your own budget shapers and modifiers

Working with a model – develop the skills needed such as composition, posing, communication and direction

Lighting techniques and styles – explore the different set ups in speedlite photography including low key and high key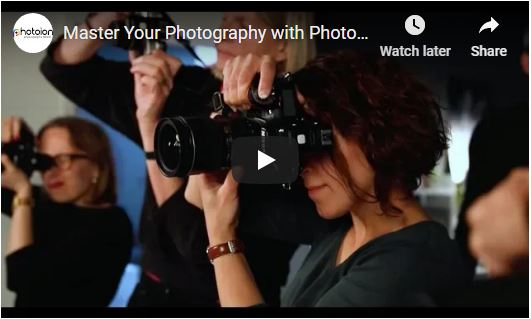 This masterclass is perfect for portrait photographers of all abilities who want to improve and develop their skills. During this workshop, you'll learn how to unleash the potential of your flashgun off camera on location, with the use of a professional model. The workshop will involve outdoor and indoor practical sessions.
In a practical and creative environment, you'll have the opportunity to learn from the best at Photoion Photography School. Our workshops are limited to small groups so you can learn in a fast paced setting and gain confidence in this area. Once you've mastered one speedlite you'll be able to move on to two and even three or more, to create dramatic images worthy of a professional portfolio.
All you need is a basic knowledge of camera settings including aperture, shutter speed, camera lenses and ISO including exposure modes. If you're a photography novice but would still like to take part in this workshop, we recommend completing one of our Beginner Courses or Workshops first.
Participants will also need to use a digital SLR camera or a professional compact camera with manual exposure. Don't worry if you don't own a suitable camera, as you can hire one off us on the day of your course. Please let us know in advance if you need to borrow our equipment so we can make sure we have it ready for you.
You are welcome to bring your own speedlite and equipment for the workshop, but again we are happy to provide these for all participants. We'll bring a number of speedlites for the set up, and also provide radio wireless flash triggers. Please note for Sony Alpha users we can also provide a hot shoe adaptor to connect cameras to the flash transmitter.
Our Students Testimonials
5 Stars on Google+ independent reviews, over 100+ Youtube recommendations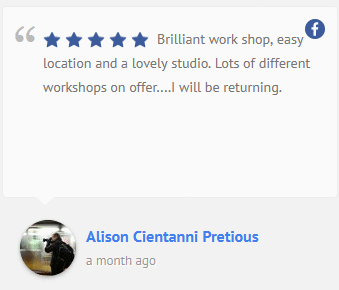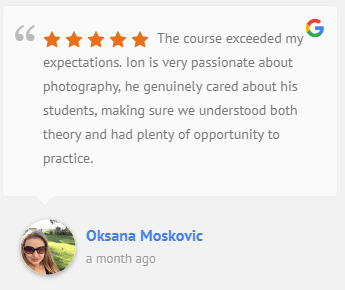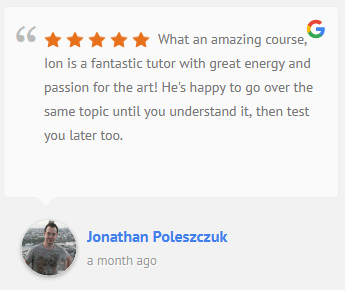 Next Available Dates
| Status | Course | Date | Time | Price | |
| --- | --- | --- | --- | --- | --- |
| Open | Speedlite (Off Camera) Photography Workshop (1 day) | Thu, 16 Jan | 10:30 am to 4:00 pm | £185.00 | Book now |
| Open | Speedlite (Off Camera) Photography Workshop (1 day) | Mon, 24 Feb | 10:30 am to 4:00 pm | £185.00 | Book now |
| Open | Speedlite (Off Camera) Photography Workshop (1 day) | Fri, 27 Mar | 10:30 am to 4:00 pm | £185.00 | Book now |
| Open | Speedlite (Off Camera) Photography Workshop (1 day) | Thu, 30 Apr | 10:30 am to 4:00 pm | £185.00 | Book now |
Unlimited After Course Support
The Speedlite Photography Workshop will give you the confidence you need when capturing images with a flashgun. You'll learn all the essential technical elements as well as insider tips from our experienced tutors.
Following on from the workshop, feel free to contact our tutors with any questions or problems you have. Photoion offers an unparalleled after course support system, and you can also submit your work for constructive feedback and review.