Long Term Photography Courses in Central London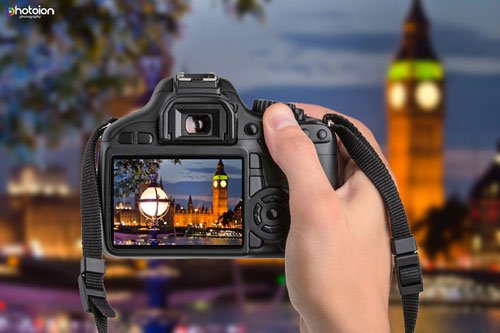 This bespoke course combines a number of our professional courses and workshops, at a time that suits you. These photography study courses can be spread over 12 months.
Class size: Courses limited to 8 persons.

Duration: The course package will fit into your agenda – bespoke time slots over 12 months

Price:
Package 1: £999
Package 2: £1499

Dates and availability

: Please see our full schedule

here 
What will I learn on the Long Term Photography Course?
This course simply puts together a number of our photography workshops and courses, so you'll be following the same topics.
Students will also have the opportunity to add a one day workshop to their package at 20% off. Choose from Product, Food, Speedlite, Fashion, Street or Macro.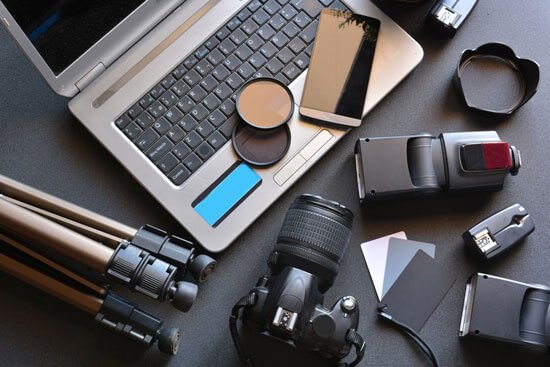 If you want to study a wide-ranging photography curriculum at your own pace, then the answer is a resounding yes. The Long Term Photography Course is tailorable so it fits around your lifestyle and other commitments. It combines several of our most popular courses and workshops so you can benefit from learning lots of impressive skills and techniques from our experienced tutors. The course is suitable for beginners, amateurs or professionals.
This longer course has been formulated for people with a keen interest for photography who would like to develop their skills over a period of time. You will also get the chance to work with your tutor for a number of months and develop a relationship so they can give personalised feedback. Led by experienced professionals, this course is the perfect way to become a skilled photographer by exploring an assortment of photographic techniques.
To take part in this photography course you will need a DSLR camera or a professional compact camera with full manual exposure. We offer free hire of our equipment so if you don't own a camera just notify us a couple of days before each booked session. However, we do recommend you have your own camera for this long term course so you can get used to using the same tools as you progress.
Our Students Testimonials
5 Stars on Google+ independent reviews, over 100+ Youtube recommendations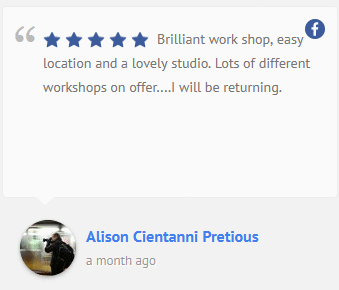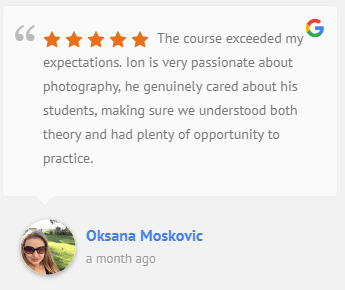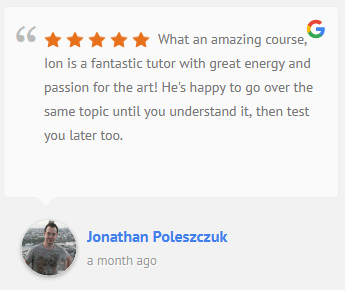 Booking Options
Please choose a package below, fill in the booking form and make payment.
Then choose your courses dates from our schedule and let us know the dates via e-mail ([email protected]) so we can arrange your programme.
Unlimited After Course Support
After completing this package, you'll be very confident in creating photographs using advanced techniques and in varying environments. However, if you ever need support or guidance our tutors are always here to assist you. Photoion Photography School offers an after course support system and welcomes students to stay in contact after their course. You can even send in your work for feedback – we love to help!