Daguerreotype – the birth of modern photography
In our previous blog on the history of photography, we looked at the work of French amateur scientist and early photographer Joseph Nicephore Niepce. The photographic process that he called Heliography produced the first photographic images by placing a bitumen covered steel plate in an early camera obscura, and then developing it for around eight hours.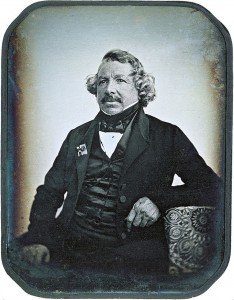 Before his death in 1833, Nicephore Niepce teamed up with another French artist and chemist, Louis Jacques-Mandé Daguerre, who continued the research that he had started. It was this research that led to the invention of Daguerreotype, the first practical method of producing permanent photographic images, although interestingly the word 'photography' was never used to describe it. Daguerre built on much of the work that Nicephore Niepce had started, researching the ways in which silver iodide could be used to develop images cast onto copper and silver plates.
However, when he discovered that mercury fumes could be used to develop images in under thirty minutes, the technique that became Daguerreotype was born.
The discovery of mercury fumes and the invention of Daguerreotype is shrouded in myth, and many spurious stories have circulated about the fortuitous way in which Daguerre might have stumbled upon his discovery. For many years, photographic historians believed that Daguerre had discovered the advantages of using mercury though a broken thermometer, or though leaving an uncovered bowl of mercury in a laboratory cupboard with some images plates.
We now know, however, that no matter how romantic these stories are, they are not the truth. In fact, no one knows exactly how or why Daguerre decided on using mercury, but the one thing we do know is that it changed the history of photography forever. It meant that instead of taking up to eight hours to produce an image, as had been the case with Nicephore Niepce's Heliography, it could be done in a fraction of the time, thus staking its claim as the first 'practical' photographic method.
Instead of patenting his new technical invention, Daguerre instead insisted that the French government took ownership of the rights, on the promise that they would gift him a lifetime state pension. In August 1839, eight months after Daguerreotype had been announced, the French government then presented it to the world as a 'free gift', available for anyone and everyone to use.
However, only two weeks later, English businessman Richard Beard bought the patent to Alexander Wolcott's mirror camera, and set up his own Daguerreotype studio in Regent Street, London. He later also acquired the original Daguerreotype patent from Daguerre in 1841.
Unfortunately, much of Daguerre's photographic work from this period was lost in a fire at his house in Paris in 1839. In fact, most historians believe that only twenty five pieces of his work exist to this day. Although Daguerreotype was made technologically obsolete a mere twenty or so years after it was first invented, the technique has since been revived in fine art photography, with artists like Jerry Spagoli and Chuck Close employing it in their work.