Today we're going to be talking about our trip to Romania for our photography holiday in Transylvania back in September 2017.  We were staying at Balea Lake which is located on one of the peaks of the Carpathian Mountains.  As usual, Tatiana and I arrived 2 days before our students. We usually take a bit of time before our photography holidays and begin properly to disconnect from the mundane tasks and the busy life of London.
(Our next photography holiday in Romania will be taking place on 26th Sept – 1st Oct 2018 – see more info here)
We spent the next 2 days down south of the country, in Oltenia, after 2 days we were on the train heading towards the airport in Bucharest to meet our group of students, we had a team of 9 people. Myself, Tatiana, Cliff, Tim, Helena, Catherine, Lucy, San, Satish, Dolores, and Windhal embarked the 16 seat minibus (with driver) very quickly as we were really eager to get started and get to the place. We had a very long journey ahead of us; the distance from Bucharest to Balea Lake is 240 kilometres and approximately 4 – 5 hours driving. There is only about 100 km of motorway (in between Bucharest and Pitesti); the rest of the road is through the villages and a big portion, about 86 km on the Transfagarasean Road (from Curtea de Arges and Balea Lake) which offers breathtaking views. After 7 hours we were at Balea Lakes, the place where we would all be staying for the next week which is an ancient glacier lake which is located is located in the heart of the Carpathian Mountains at 2100 meters altitude.
The access to the lake is made via the Transfagarasean Road (DN7C) which is a road, built in the early 1970s by Nicolae Ceausescu (former communist president) as a strategic military route, connects the historic regions of Oltenia and Transylvania.
Our accommodation was Cabana Paltinu (Paltinu Chalet), which is former Romanian Dictator, Nicolae Ceausescu's private chalet where he was staying while he was hunting together with some of the Romanian political elite, back before the Revolution in December 1989 when the fate of the country changed after 45 years of communist domination. This Chalet was built for the dictator's private use and offers 16 ensuite rooms available for hire, a large dining area/lounge carved in wood and which has a big terracotta heating system, in the middle. Cabana Paltinu has also a bar, a kitchen (where the amazing chef Ioana cooks delicious local Romanian food) and a large terrace which faces Balea Lake. Cabana Paltinu (Chalet) is mostly unoccupied at this time of the year, and we were the only inhabitants so we enjoyed the whole place to ourselves, such a pleasure!
There is another Chalet across the lake, Balea Lake Chalet, which also offers rooms for hire and local Romanian food but not as cosy and pleasant as Paltinul Chalet.
We stopped a couple of times on our way for coffee, snacks, and to stretch our legs. The driver also needed regular stops as required by the European people regulations. We made our first stop at a lovely hotel near Lacul Vidraru (Vidraru Lake) for refreshments and while we were getting back in the minibus I heard a strange noise.  I raised my eyes which suddenly made contact with the first creature of the place, a huge bear which was calmly watching us just from under a sign quoting: Atentie, ursi! (ATTENTION, BEARS)! Our students jumped out of the car with their cameras and they snapped a few images of this lovely creature. We really enjoyed our first encounter with the local Romanian wildlife. (you will read later more stories with the local bears and foxes)
We reached Balea Lake at about 10.00 pm and we were greeted by the manager (his name is Tavi) of Paltinul Chalet and his family who look after the entire chalet. They were waiting for us, ready with dinner and local drinks (Palinca and Horinca de Maramures – local home fruits made spirits). They usually serve dinner at the chalet until 10.00 pm but they made an exception for us. I and Tavi are very good friends, we've known each other for about 25 years.  We had dinner and then we spent a bit of time chatting, of course with a bottle of "visinata" which is homemade black cherries liquor which I brought from the south of the country.
The first day of our photographic holiday adventure started and we headed back on to the Transfagarasan Road intending to explore the surrounding scenery. It was a very beautiful day with lovely weather just perfect for landscape photography. We spent some time here on this road, stopping regularly for all the photographic opportunities. As usual, we didn't miss any of them. We loved the area, the colours, the vegetation, the rocks, and not to forget the impressive and challenging Transfagarasan Road.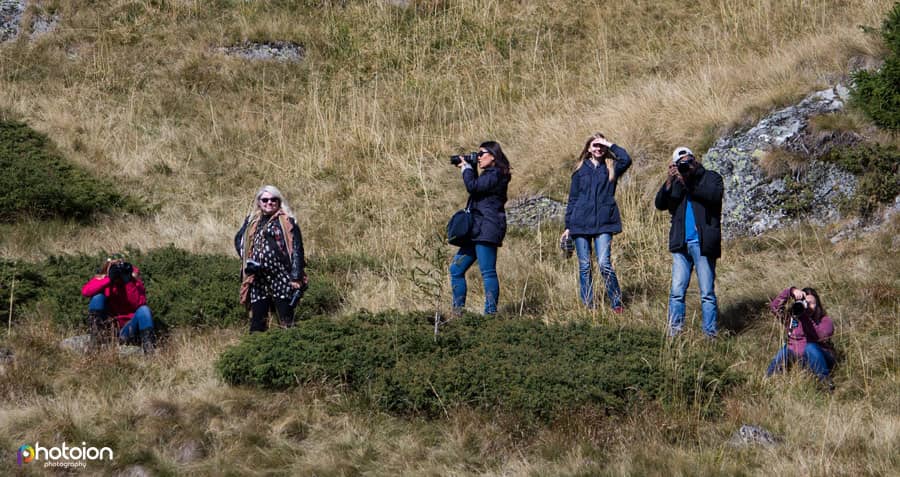 There are plenty of hotels, restaurants, and coffee shops along this road so we stopped for refreshments at a very cosy restaurant with a lovely outdoor terrace. While we were enjoying our delicious refreshments (coffee is really good in Romania) our wildlife expert student Dolores snapped a few images of a local pair of cute puppies who were warming up in the morning sun.
We soon reached a really good position where we could clearly see and take photographs of Castelul Poenari (Poenari Castle/citadel) which is in fact known as the first Dracula's (Vlad Tepes / Vlad the Impaler) residence. Poenari Castle / Dracula Castle is a ruined castle in Romania, notable for its connection to Vlad the Impaler, access to thi citadel is made by climbing the 1,480 concrete stairs. The light was changing really fast so we had to wait for a while but we got some great images in the end.
"Drac" or "Dracul" means devil in the Romanian language, "Dracula" name was created I guess by the Americans, this name doesn't exist in the Romanian language.  We soon reached the base of the hill where the Poienari Castle / Dracula Castle was located but we decided not to take the route up to the castle and we headed back to Balea Lake.
We got back to Balea Lake late and we had a dinner, tasting various delicious Romanian dishes and drinks, wine and beer are really good in Romania and we finished with homemade organic "cozonac" (some sort of marble cake) which is probably the most popular Romanian desert. It is similar to the Italian panettone but marble cake shaped, which I also brought from south of the country.
While we were preparing for bed, I went out to enjoy the quietness around the lake, near the chalet. However, at some point I heard a really strange and powerful noise. It was very dark and you couldn't see a thing but when I focused my eyes properly I saw 2 big shadows in the darkness coming down the hill, at quite fast speed. I stopped breathing and I listened carefully, yes! It was confirmed, 2 bears heading towards the bin rubbish chute which was located about 20 metres from the chalet.  I stepped back towards the door and I went inside and triggered the "alarm": bears outside, I shouted!  As the bin chute was just by my room's balcony I went upstairs to watch the bears using my powerful LED torch. I quickly discovered that they were in fact 3 bears, a female and 2 quite big cubs, not the right time to be outside!
At some point I saw the bear mum rise onto 2 legs – there was a potential danger around and she was taking position to protect her cubs. In a few minutes I found out that the "danger" was our student Dolores, who has a huge passion for wildlife, she was outside near my balcony around the corner and was watching the bears in the light of my torch; obviously, when she realised that the bear is getting quite nervous about her presence she found her way back to the room in a big hurry!
We spent the next hour together on the balcony watching the bears riffling through the bin chute and dragging all the rubbish outside to her cubs (it proved that the guys from the chalet left the bin chute unlocked). They were making a terrible noise chewing all kind of leftovers from the rubbish bags. We took position with a large aperture lens a canon 70-200 f/2.8 and a Canon 5D Mark III camera to photograph the bears. The bears were making a terrible noise and shortly they spread plenty of rubbish bags all over the place.
It was so dark that it was impossible to get the bears in sharp focus despite my very powerful led 800 lumens torch. We gave up in the end as it was very cold and we were frozen.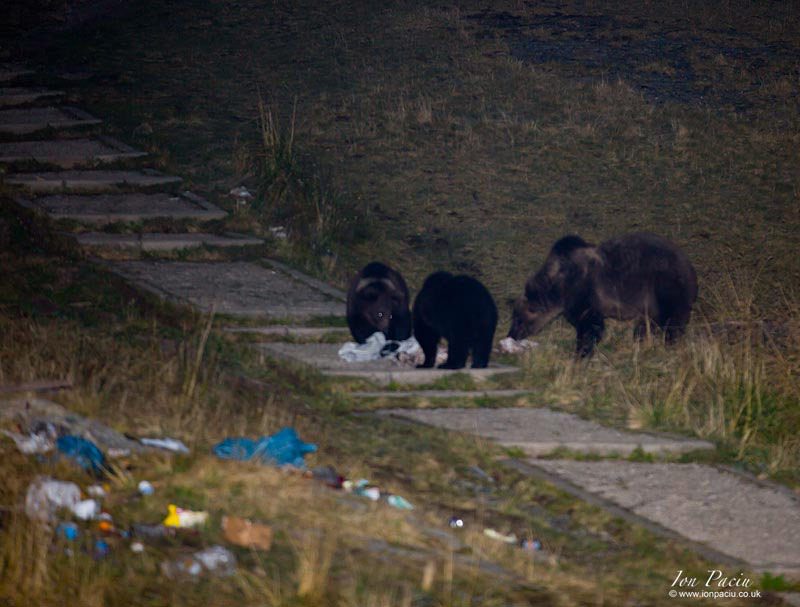 In the end I went downstairs and I told Bogdan (the administrator) that the bears are making a mess around the chalet, he went straight to the bears and scared them away and locked the bin chute door, the show was over so I thought I would go to bed and take some rest.  However, the sky was so lovely that I decided to head out and take some images of the stars and some other street furniture (there are all kind of constructions and antennas around including the cable car building and the improvised kind of chapel).  It was freezing cold but I managed to get a few images from the balcony.
The second day we visited Sibiu, one of the most beautiful towns in Romania, which is my favourite city in Romania so far. We starting driving towards the central part of the country taking the north side of the Transfagarasan Road towards Sibiu, the capital of Transylvania. We stopped near Balea Fall just on the top of the fall and we took pictures, I also broadcasted some video footage live on Facebook from the road.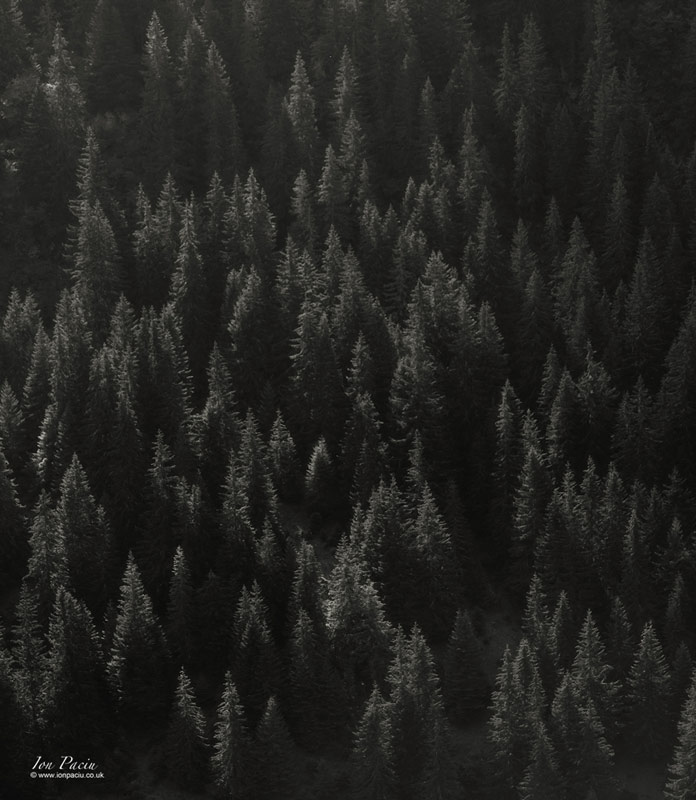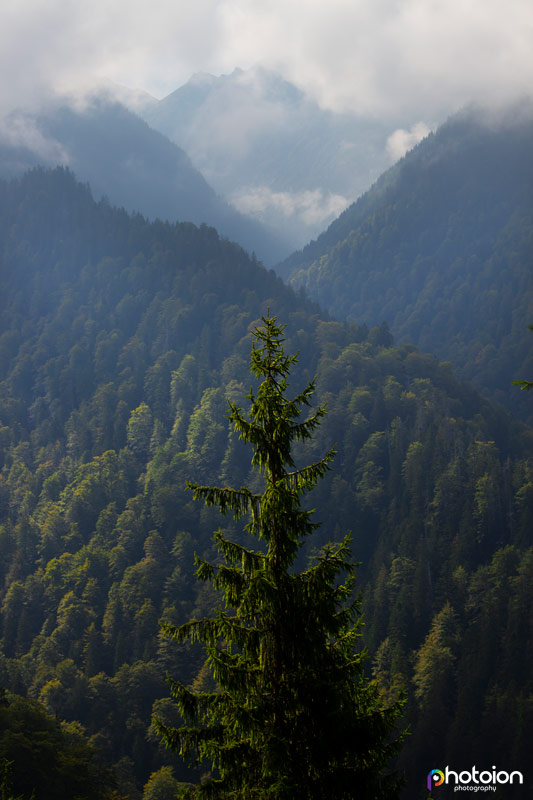 Sibiu is a very old medieval city with a big German influence, with lovely gothic architecture and a very beautiful large square in the middle of the city. We went straight to the next "patisserie" and we all ate "langos" which are a very popular delight of the area kind of a doughnut with different fillings (cheese, meat, etc.). After we savoured the langos we split up and we spent some time on our own.
We met near sunset for refreshments at Wien Cafe Terrace. Wien Cafe Terrace is located in the central area of the town near the Brukental museum and offers a really great bird's eye view over the old town of Sibiu. We spent some time taking pictures here and having different refreshments, the coffee was very good here though some of us took the liberty to taste the local Romanian wine.
We finished there and we headed towards the minibus to pick up our heavy "artillery": the tripods and the rest of our lenses, we were preparing for the "magic time"!   However, we didn't go too far because we were stopped by the beautiful light falling over the fountain in the lovely central park, near the Continental Hotel. We spent a while there taking pictures then we did a reconnaissance of the central area looking for any good opportunities for later when the lights of the city turned on (composition).
We spent the last hour setting up and taking pictures then we left Sibiu heading back towards Balea Lake.
On our way back we stopped for dinner at a very popular restaurant Fântânița Haiducului along the main road towards Brasov. The food was amazing here and very cheap, we had dinner again tasting various Romanian local dishes, 12 people, one or 2 dishes, including drinks and we paid around £120, we went: wow! We ate mamaliguta cu branza si smantana (polenta with cheese and sour cream), ciorba de burta (tripe soup, one of my favourite Romanian dishes), mititei (some sort of kebab finger-shaped – pork and sheep meat), ciorba in paine (soup in a piece of bread) and many other.
We reached Balea Lake and Paltinu Chalet very late once again; we were very tired but very happy and keen to see our captures from the day. I was so tired that I swore I would go straight to bed, however, 2 of my students went out to take pictures of the stars and seeing them out alone in the middle of the night my sleep vanished once again! So, I packed my stuff, I put on some additional warm layers and I went out and joined my 2 fellow photographers, San and Helena. It was a very beautiful night, with a clear sky.
The third day we went to visit Bran Castle (another known Dracula Castle) which is located in the locality Bran near Brasov.  On our way we stopped and visited Sâmbăta de Sus Monastery complex (also known as the Brâncoveanu Monastery – Mănăstirea Brâncoveanu) which is a religious site built around 1696 around the Brancoveanu Brick Church.  We stopped before Sambata and captured some great images of the Carpathian mountains, the light was so great!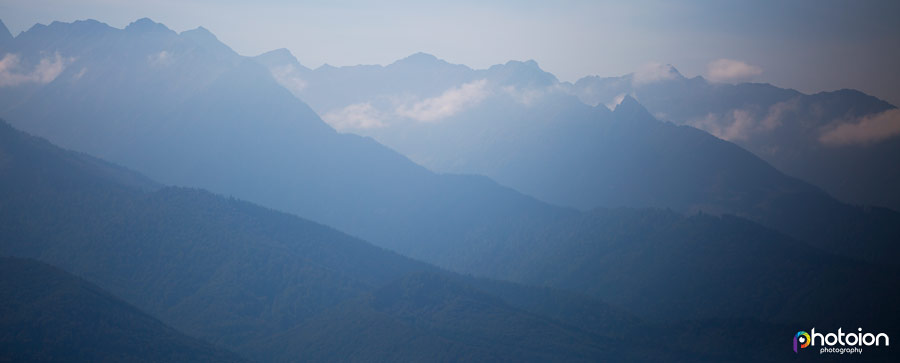 After we visited Brâncoveanu Monastery we stopped for lunch at the local restaurant near the religious complex which is quite popular in the area and we again devoured some delicious Romanian dishes and drinks (mainly beer and wine). There is really good local wine and beer in Romania and plenty of different kinds of homemade spirits (tuica, palinca, horinca, slibovita, etc.)
We finished lunch and we drove to Bran Castle, and surprise, there was a festival SAMBRA OILOR FESTIVAL (sheep festival) just by the castle, which consisted of plenty of Romanian local food and drinks stalls and a various Romanian music bands performing on a huge illuminated stage. I was worried at the beginning that it might compromise our sunset photography session but in the end, it proved to be quite a good opportunity to once again taste the local goodies and listen to local Romanian folk, popular and rock music. Our people also took this opportunity and captured some great portraits of locals in the market.
It was a great atmosphere with people making fires around to warm up, plenty of barbecues cooking "bulz ardelensc" (polenta filled with cheese and smoked meat, rolled like a ball and grilled) and "porumb fiert" or "porumb prajit" (boiled/roasted fresh soft natural sweated corn). The smoke from barbecues and the fires were a great addition to our photography.
We finished here just after the magic time and embarked in our car and started driving towards Balea Lake via the north side of Transfagarasan Road once again. In the meantime, dinner consisted from "porumb fiert" boiled corn which I bought before we boarded our minibus devoured by the members of the team on our way to the hotel. Everyone was so happy about my decision that the "porumb fiert" got exhausted immediately.
We reached Balea Lake and Paltinul Chalet very late once again and very tired but very happy with the images of the day. Our successful starry night photography from the previous night got everyone so excited that everyone else decided to join us out and capture the stars. It was such a beautiful night, with crystal clear sky, the moon was beyond the mountains so it was not compromising the sky too much, but, there was one big issue: it was cold freezing (3 degrees Celsius below zero (-3 Celsius).  Anyway, we packed our stuff, put on some additional warm layers, we went out and we climbed the next hill to the chalet, near the Balea Cable Car Station. It was a lovely night with a crystal clear sky, and we kept taking photographs for a while.
At some point, some of us started to leave, and to be honest I understood them, it got really freezing cold, proper cold! In the end, it was only 3 of us left; San, Helena, and I. After a while, we also decided to head indoors, and while I was heading towards my room I was greeted by 2 fellow students, Satish and Cliff who asked me if I still have some of that delicious homemade "visinata" (black cherry liqueur). I didn't say no, so we warmed up properly until late when I decided to retire quietly to my dormitory, I think they stayed for a while.
The last day, Sunday, a beautiful sunny day, a crystal clear blue sky above our heads, and a quite busy day as it was the weekend and there were plenty of tourists around.  Some of our students spent some time after breakfast looking at their images, some went out taking pictures and shopping around along the food stalls featuring local food and drinks. Tatiana and I picked up some Romanian "toba" (organic cooked lean meat melted in gel wrapped in natural organic skin) which is a great local delicacy and some other goodies, with a view to bring them back home to London.
When we got hungry we had lunch at the Paltinu Chalet, delicious food and then we decided to head out for the sunset with a view to enjoy the beautiful scenery and also capture the light trails of the tourist's cars along Transfagarasan Road.
As well as the other days, evenings, and nights we really had a great time chatting and enjoying the scenery and I also brought chocolate and "visinata" for everyone and we also took some great light trails images.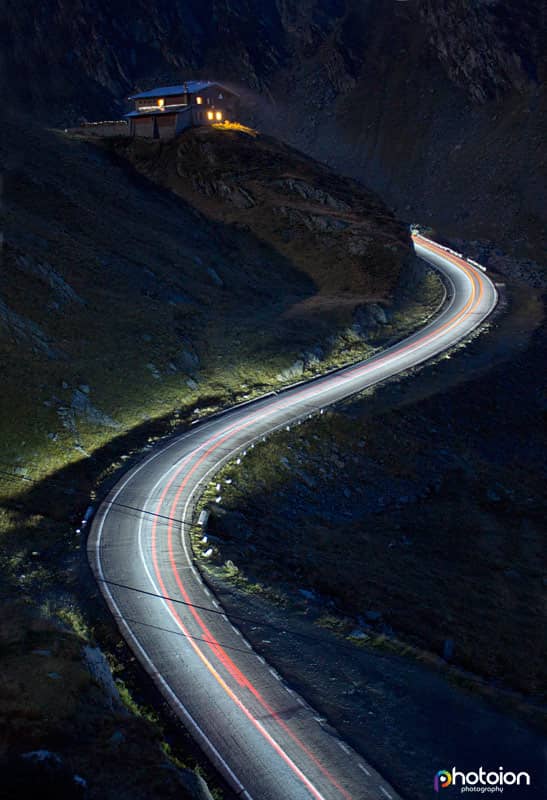 When it got very cold and we had enough fun and great photographs we retired for dinner. Once again we tried new dishes from the very thick menu with Romanian dishes of the Balea Lake Chalet kitchen. We went back to our rooms as it was time to pack our suitcases.
We got back to London feeling such a pity it was too short, however, we also felt so happy to be back to London, home sweet home!
Our next photography holiday in Romania will be taking place on 26th Sept – 1st Oct 2018 – see more info here