World's First Constant Aperture Zoom
We've got some potentially great news for photographers this week as Sigma are set to market the first zoom lens to achieve a maximum aperture F1.8 throughout the entire zoom range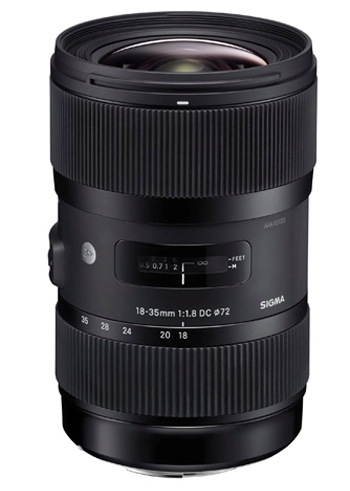 Mark Amir-Hamzeh, president of Sigma Corporation of America, told Photo District News: "Exceptionally fast apertures were previously unavailable in zoom lenses, so photographers turned to several prime lenses in a session to get bright images at various focal lengths. We're incredibly excited to be the first manufacturer to bring the F1.8 standard zoom to the market and to provide photographers with a new level of creativity and convenience, with the outstanding image quality at the core of the new Sigma Global Vision".
For those of you who are interested in the technical aspect of this new product, the following is taken from the Sigma website:
"Truly a revolutionary product, the Sigma 18-35mm 1.8 DC HSM is the first wide-angle to standard zoom lens to achieve a large aperture of 1.8. Designed specifically for APS-C sized sensors, the Sigma 18-35mm 1.8 translates to 27mm-52.5mm on 35mm camera. Tapping into Sigma's long history of lens innovations, the 18-35mm 1.8 DC HSM incorporates a wide glass molded aspherical lens with Special Low Dispersion (SLD) glass to compensate for aberrations and curvature at the widest angle. Internal focusing and zooming allows for more usability and functionality. The 18-35mm is ideal for landscapes, portraits, still life, snap shots, casual, and close-ups and the Hyper Sonic Motor (HSM) ensures smooth, fast and accurate autofocusing. The use of Thermally Composite Material (TSC) reduces size and weight but increases the lens durability. Its new Global Vision design works with its compatibility with the Sigma USB dock for further customization. A 9 blade rounded diaphragm also creates beautiful background blur. The Sigma 18-35mm 1.8 DC HSM is a new benchmark in photographic history and a must have for every camera bag."
We would love to know what you think about this new product, will you be getting one? Do you think it is a long overdue innovation or just another gadget? Head over to our FACEBOOK page and let us know.
Don't forget that if you have a keen interest in photography, we at Photoion have a wide range of courses and specialised workshops to help you grow as a photographer. Click HERE to visit our site and check out our courses.